If Your Dentures Make Your Mouth Sore
Having dentures should not hurt. People who wear dentures may experience temporary oral irritation or soreness. Eating certain foods may cause temporary pain. For example, a seed or peanut may slip under a denture and cause irritation to the gum.
This type of irritation usually goes away after a few days once the source of trouble (in this case the seed or peanut) is removed. Often, it may be more comfortable to leave the denture out of the mouth during this healing.
Dentures are custom made specifically for your mouth; therefore, new dentures often require adjustments to areas that rest directly on the soft tissue. Sometimes, due to bony ledges and undercuts, dentures require alteration. To improve the balance and pressure of the denture during eating, the bite is sometimes adjusted.
Adjusting a denture requires a quick and simple dental visit. The denture dentist may use an indicator paste or marker on the irritated mouth tissue, which is then transferred to the denture upon placement, to determine the exact location on the denture that needs adjusting.
A rotary dental hand piece is used to contour the denture. Often, relief of an impinging denture improves comfort immediately; however, keeping the denture out of the mouth for a while may help the irritation or sore heal. After a few weeks, discomfort associated with a new denture often is eliminated and the denture functions without pain.
Over time, the mouth undergoes changes that can affect the fit of a denture. Since the bone and gum tissue of your mouth changes over time, it is important that denture wearers visit the denture dentist at least once a year for an oral examination, including an oral cancer examination.
A denture dentist can exam your mouth to determine the cause of your pain, evaluate your soreness and irritations, and adjust your denture. Depending upon the severity of the denture sore and the length of time the denture has not been in the mouth, it may be necessary to wear the denture the day before the dental visit so that the dentist can accurately resolve the problem. Often, a few denture adjustments will resolve discomfort associated with your denture.
Seeing a denture dentist can help improve the fit, function, and look of your denture, as well as detect any problems that are not related to the denture.
by Denise J. Fedele, D.M.D., M.S.
Dental Health and Caring for Seniors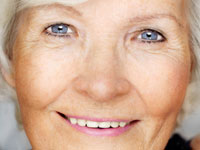 Seniors are the fastest-growing age group in the U.S., in part because medical advances and preventive care are extending life and the quality of it. As the baby boomer generation ages, the senior population is swelling, along with their interest in maintaining healthy bodies and lifestyles. Good dental health is important to overall health and seniors must stay on top of their dental care. It is now possible to keep natural teeth and good dental hygiene plays a vital role.
Dental Decay and Gum Disease
Talk to your dentist about the proper care of your teeth and dental health. Brushing twice a day and flossing regularly are the most important steps you can take to keep your teeth and gums healthy. If age is causing your gums to recede, clean your teeth thoroughly, but be careful not to irritate or tear the gums. A receding gum line may also expose sensitive portions of teeth; careful brushing is important, as are toothpastes that offer sensitivity protection. If you have difficulty using a toothbrush or floss because arthritis or a stroke has impaired your agility, ask your dentist to recommend commercial products that will make the tasks easier. Bleeding or sensitive gums, constant bad breath, receding gums, and loose teeth are all symptoms of gum disease, which can hasten tooth loss. If you spot these symptoms, talk with your dentist about them before they cause pain and deterioration.
Watch Your Mouth!
After a lifetime of chewing and biting, many seniors have dentures, bridges, crowns, and, of course, their fair share of fillings. Over time, even the best dental hardware can wear out. If you feel changes in your mouth, particularly when you are eating, brushing, or flossing, bring them to your dentist's attention. You may take medications or have a medical condition that results in dry mouth. Saliva production is important to good dental health: it keeps the mouth moist, washes away food particles, and protects against decay from plaque. Enlist the help of your dentist, and ask about artificial saliva products.
Maintaining Your Investment In Dentistry
Don't stop caring for your teeth and mouth at this stage of the game! Keeping your teeth healthy means greater comfort and enjoyment as you eat, laugh, and speak. Good preventive care will give you something to really smile about and help to maintain your dental health!