New Dentures: What to Expect from Complete Dentures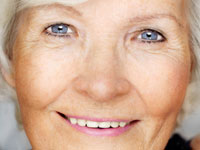 Complete dentures are less than perfect replacements for natural teeth. However, they have proven to be effective for countless individuals and can be comfortable to wear if a person has reasonable expectations and recognizes that there definitely will be an adaptation period.
It is important to understand that "showing off" with new complete dentures often ends in an unpleasant and embarrassing experience. One must first practice with their new prosthesis and learn what limitations and compensations need to be considered.
The old adage of "learn to walk before you run" certainly applies to the successful, secure and comfortable wearing of complete dentures.
Some Factors to Consider When Wearing New Complete Dentures
This is not an exhaustive review of new complete dentures learning considerations. However, these are common areas of concern. If a person has a unique question or problem, they should always contact their dentist or prosthodontist for advice and direction.
Full feeling:
When new complete dentures are first placed in the mouth, they frequently feel fuller, and it may not seem like there is enough room for the tongue. When a person has been without teeth for a period of time, the inside of the cheeks and tongue can become slightly thicker or feel fuller. When new complete dentures are first inserted, this slight fullness may feel enormous. It actually is not, and the full feeling will usually go away very shortly if an individual does not dwell on the sensation.
Previously unsupported sunken facial structures and muscles usually will be supported with new complete dentures to a normal position. These facial tissues adapt rapidly to their regained normal positioning and will feel less strained and more flexible. A more youthful appearance results in many cases.
Phonetic difficulty:
When a person is used to producing speech sounds without teeth or with old complete dentures that no longer preserves proper jaw relationships, they generally have adapted their speech in such a way as to accommodate these abnormal conditions. However, when correct jaw relationships and contours are established again with new complete dentures, there may be some difficulty producing certain speech sounds clearly, and teeth might even click together in some instances. This is temporary.
If an individual makes an effort to speak slowly and clearly, pronouncing words very precisely, the tongue and other muscles will adapt quickly to produce clear speech. It is often useful to read a book or newspaper out loud, carefully pronouncing each word precisely.
Sore spots and irritations:
These may develop as new complete dentures settle in. This may require some adjustment to the body of the complete dentures, and, more often, careful adjustment of the bite resolves these types of problems.
At times, the jaws may feel tired and soreness can develop. Taking complete dentures out to rest the mouth for a time frequently helps resolve these problems.
Chewing patterns:
Chewing patterns will need to be developed over several weeks, starting by chewing with small pieces of soft food and gradually increasing the firmness over several weeks. Generally, food should be chewed on both sides of the mouth at the same time.
Front teeth are considered primarily for esthetics and speech and to a lesser degree for function. Food is not bitten off with the front teeth efficiently; rather, the bolus of food should be held by the complete dentures, near the corners of the mouth, and torn off by rotating the hand holding food in a downward motion. This will increase chewing efficiency and reduce irregular denture rocking.
A complete dentures patient needs to take control and keep a positive attitude for optimal results.
by Joseph J. Massad, D.D.S.
Are Lower Dentures Always A Problem?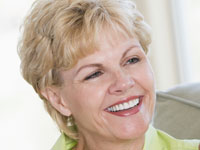 While dentures are marginally adequate substitutes for missing natural teeth, the lower denture can be troublesome for many individuals.
Inherent Lower Denture Problems
A lower denture interfaces with more movable mouth surfaces than an upper denture.
The lower denture has less stabilizing surface to rest upon. For example, there is no broad palatal surface (roof of the mouth) as in an upper denture.
Loss of jawbone over time brings a lower denture into closer contact with tissue extensions called frenum attachments, which create dislodging forces.
While these problems are inherent to lower dentures, every person is different and not affected in the same way. There are ways to approach these problems.
Some Considerations for Improving Lower Denture Stability
A thin band-like tissue extension (called a frenum) may attach between a jaw ridge (called an alveolar ridge) and the inside of the cheek. This strip of tissue may become active while eating or speaking and can lift a denture from its alveolar ridge. This frenum attachment may be surgically moved (this is called a frenectomy).
Alveolar ridge bone profile lessens or literally comes closer to the floor of the mouth as jawbone is lost over time. The bone loss is called resorption. This reduces the vestibule or space between the lip and alveolar ridge. Surgical extension of this vestibule (called vestibuloplasty) provides more alveolar ridge exposure for a denture to rest upon and reduces muscle pull due to a high frenum attachment.
As an alveolar ridge loses bone, it often may be built-up by surgically placing various substances beneath the gum tissue to increase both bulk and height of the ridge. This is called alveolar ridge augmentation.
As a person eats and speaks, the lips and cheeks exert forces towards the inside of the mouth while the tongue exerts an outward counter force. There is a space between the tongue and lips and cheeks, called the neutral zone, where there are balanced forces during function. These opposing forces can help maintain a denture in place, with surprising power, if the denture is fabricated so that its bulk and teeth rest within this space.
Inserting metal implants into the jawbone and fabricating a lower denture to receive and connect with these implants in various ways will help stabilize a lower denture, while still allowing for comfortable and easy removal of the prosthesis for cleaning.
Ensuring that upper and lower teeth contact optimally during function (called balanced occlusion) is a basic means of stabilizing a lower denture. If one tooth strikes on one side only, the denture will rock. Even contact or biting is a necessity. Fabrication of a denture that completely avoids contact with all potentially dislodging structures and has a metal base for strength and some weight often will facilitate stability.
What's the Best Approach?
Frequently, several approaches are combined, and not all may be suitable for a particular patient. After a thorough examination, a licensed dentist can best advise an individual as to the best means of helping stabilize a lower denture in their unique situation.
by Joseph J. Massad, D.D.S.